By H. Michael Steinberg – Colorado Theft Crimes Defense Lawyer
Colorado Springs Sees Massive Increase In Aggravated Motor Vehicle Theft Under C.R.S. 18-4-409 – A report by the Colorado Springs Gazette on September 13, 2013 documented a massive increase in car thefts in Colorado Springs that seems to be unexplained.
Between 2011 and 2013 aggravated motor vehicle thefts in Souther Colorado increased more than 50%.  The police in Colorado Springs police reported that 1,995 stolen vehicles in 2012, a 57 percent increase from 2011.
Aggravated Motor Vehicle Targeted By Colorado Law Enforcement
Because, "auto theft is truly a crime of opportunity," according to the Colorado Springs Police Department's motor vehicle theft task force.  For that reason, juveniles are often charged with this common crime.
Juveniles looking for something to do – will often "prowl" neighborhoods, on a Friday night for example, to look for a car that is unlocked, or with windows lowered and / or with valuables in plain sight.
The Springs police warn individuals to take precautions to prevent their cars from being stolen. Working statewide with the Auto Theft Intelligence Center at the Colorado Bureau of Investigation, and the Colorado State Patrol crime analysts, troopers and detectives have created a streamlined process to process and report stolen car information and then share it among law enforcement agencies.
Property Stolen From Automobiles Is Often Sold To Support Drug Addictions
While there are professional "rings" who steal cars and then sell them out of state and out of the country, many car thieves are compelled to break into cars, (first degree criminal trespass of a vehicle), not to necessarily steal the car but to steal property left in the car to sell on the street, to feed a drug habit. If the keys are left in the car – these same individuals will steal the vehicle – even if they fo not have the technical sophistication to start the car without the actual car keys.
Even if the car is not stolen – amateurs – such as juveniles or young adults, can be charged with other serious Colorado felony and misdemeanor crimes such as First and Second Degree Trespass just for entering the vehicle with the intent to steal something.
Identifying Information Left In the Automobile
One of the dangers of leaving identification in a vehicle – or even just a garage remote… is the invitation this becomes to possible additional crimes such as home burglaries and -or identity theft.
New Technology Used To Locate and Prosecute Automobile Theft In Colorado
Some of the latest technology used to locate, apprehend and prosecute these cases is described as:
The Colorado Automated License Plate Readers Program (ALPR)
his technology uses optical character recognition to read license plate information. Scanners in the form of cameras have the capacity to read hundreds of plates a minute while a patrol car is moving. The system then automatically runs the data through both national and local databases, thereafter alerting law enforcement if there is a match is made.
The Colorado "Bait Car" Program
Bait cars are another law enforcement tactic. Here a police-owned vehicle is used to entice car thieves. After the car is stolen, using GPS tracking devices, the car is located along with the  speed and direction of the vehicle.  Automatic equipment in the car records everything that occurs..which is then used to prosecute the case. Finally the car engine is remotely disabled leading to the arrest of the suspect.
The Colorado VIN Etching Program
Finally, a VIN, or Vehicle Identification Number, the unique identifier that identifies each vehicle is etched into a vehicle's windshield or windows. VIN etching aids in the successful trace of stolen cars as it makes selling stolen parts more difficult and risky.
Increase In Colorado Crime Of Aggravated Motor Vehicle Theft Under C.R.S. 18-4-409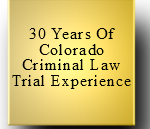 ABOUT THE AUTHOR: H. Michael Steinberg – Email The Author  – A Denver Colorado Auto Theft Crimes Criminal Defense Lawyer  – or call his office at 303-627-7777 during business hours – or call his cell if you cannot wait and need his immediate assistance – 720-227-7777.
If you are charged with A Colorado crime or you have questions about  the Colorado Crime Of Aggravated Motor Vehicle Theft Under C.R.S. 18-4-409, please call our office. The Law Offices of H. Michael Steinberg, in Denver, Colorado, provide criminal defense clients with effective, efficient, intelligent and strong legal advocacy. We can educate you and help you navigate the stressful and complex legal process related to your criminal defense issue.
H. Michael Steinberg, is a Denver, Colorado criminal defense lawyer with over 30 years of day to day courtroom experience –  specializing in Colorado Criminal Law along the Front Range.  He will provide you with a free initial case consultation to evaluate your legal issues and to answer your questions with an honest assessment of your options.  Remember, it costs NOTHING to discuss your case. Call now for an immediate free phone consultation.
Helping Clients To Make Informed Decisions In the Defense of Colorado Criminal Cases.
Contact A Lawyer with Three Decades of Experience as a Denver Criminal Attorney at The Steinberg Colorado Criminal Defense Law Firm Today.
Colorado Defense Lawyer H. Michael Steinberg provides solid criminal defense for clients throughout the Front Range of Colorado – including the City and County courts of Adams County, Arapahoe County, City and County of Boulder, City and County of Broomfield, City and County of Denver, Douglas County, El Paso County – Colorado Springs, Gilpin County, Jefferson County, Larimer County, and Weld County,…. and all the other cities and counties of Colorado along the I-25 Corridor… on cases involving …the Increase In Colorado Crime Of Aggravated Motor Vehicle Theft Under C.R.S. 18-4-409.