Colorado Criminal Law – Don't Even Try To Contact A Victim Or Witness – Criminal Tampering – § 18-8-707
By H. Michael Steinberg Colorado Theft Crimes Criminal Defense Lawyer – Attorney
Colorado Criminal Law – Don't Even Try To Contact A Victim Or Witness – Criminal Tampering – § 18-8-707 – When you are accused of committing a crime in Colorado it is natural to want to contact your accusers and convince them that they are wrong. My warning is this – not only do not contact them – do not even try to contact them. § 18-8-707
A New 2017 Colorado Case Makes Clear That Even An Attempt To Tamper With A Victim – Witness Violates The Law – § 18-8-707
First – as always – as always – start with the law. Here is the Colorado Tampering Law – 18-8-707
The Colorado Tampering Statute – 18-8-707 provides that:
A person commits tampering with a witness or victim if he intentionally attempts without bribery or threats to induce a witness or victim or a person he believes is to be called to testify as a witness or victim in any official proceeding or who may be called to testify as a witness to or victim of any crime to:

(a) Testify falsely or unlawfully withhold any testimony; or

(b) Absent himself from any official proceeding to which he has been legally summoned; or

(c) Avoid legal process summoning him to testify.
§ 18-8-707(1), C.R.S.
In the 2017 case of People v. Brooks, the Defendant argued that since his attempt to send letters to the alleged victim warning from the county jail urging her not to testify in his case – letters which never reached the alleged victim (they were intercepted by the jail authorities) he could not be convicted of Tampering With A Witness Under 18-8-707.
Put differently, Brooks argued that the statute requires that the attempt to tamper with a witness must at least reach the victim or witness.
Here is the law in Colorado on the crime of Criminal Tampering with a witness:
The tampering with a witness or victim statute does not require that the "attempt" to tamper actually be communicated to the victim or witness.
The crime of Criminal Tampering. under 18-8-707, is completed when a defendant "intentionally attempts" to tamper with a victim or witness.
Because the law "builds in" the crime of attempt in the essential elements of the crime recognize a crime – there cannot be, logically, an attempt to attempt, and "…leading to an illogical or absurd result…"
Summary And Conclusion – Colorado Criminal Law – Don't Even Try To Contact A Victim Or Witness – Criminal Tampering – § 18-8-707
The plain language of the Colorado crime of Criminal Tampering does NOT require that a Defendant actually contact a witness or victim. Rather, an attempt by the defendant to do so is all the statute requires for a conviction.
If you are charged with a crime – NEVER – EVER -EVER – contact your accusers. That is your lawyer's job – either by using an investigator or by contacting the witnesses directly.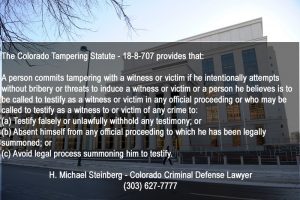 Colorado Criminal Law – Don't Even Try To Contact A Victim Or Witness – Criminal Tampering – § 18-8-707
If you found any of the information I have provided on this web page article helpful please click my Plus+1 or the Share buttons for Twitter and Facebook below so that others may also find it.
The reader is admonished that Colorado criminal law, like criminal law in every state and at the Federal level, changes constantly. The article appearing above was accurate at the time it was drafted but it cannot account for changes occurring after it was uploaded.
If, after reading this article, you have questions about your case and would like to consider retaining our law firm, we invite you to contact us at the Steinberg Colorado Criminal Defense Law Firm – 303-627-7777.
Never stop fighting – never stop believing in yourself and your right to due process of law. You will not be alone in court, H. Michael will be at your side every step of the way – advocating for justice and the best possible result in your case. H. Michael Steinberg is passionate about criminal defense. His extensive knowledge and experience of Colorado Criminal Law gives him the edge you need to properly handle your case
ABOUT THE AUTHOR: H. Michael Steinberg – Email The Author at:
A Denver Colorado Criminal Defense Lawyer – or call his office at 303-627-7777 during business hours – or call his cell if you cannot wait and need his immediate assistance – please call 720-220-2277.
"A good criminal defense lawyer is someone who devotes themselves to their client's case from beginning to end, always realizing that this case is the most important thing in that client's life."
You should be careful to make a responsible choice in selecting a Colorado Criminal Defense Lawyer. We encourage you to "vet" our firm. Over the last 35 plus years – by focusing ONLY on Colorado criminal law – H. Michael has had the necessary time to commit to the task of constantly updating himself on nearly every area of criminal law, to include Colorado criminal law and procedure and trial and courtroom practice.
Putting more than 35 years of Colorado criminal defense experience to work for you.
H. Michael works hard to get his clients the best possible results in and out of the courtroom. He has written, and continues to write, extensively on Colorado criminal law and he hopes this article helps you in some small way – Colorado Criminal Law – Don't Even Try To Contact A Victim Or Witness – Criminal Tampering – § 18-8-707.
Summary
Article Name
Colorado Criminal Law - Don't Even Try To Contact A Victim Or Witness - Criminal Tampering - § 18-8-707
Description
When you are accused of committing a crime in Colorado it is natural to want to contact your accusers and convince them that they are wrong. My warning is this - not only do not contact them - do not even try to contact them. § 18-8-707
Author